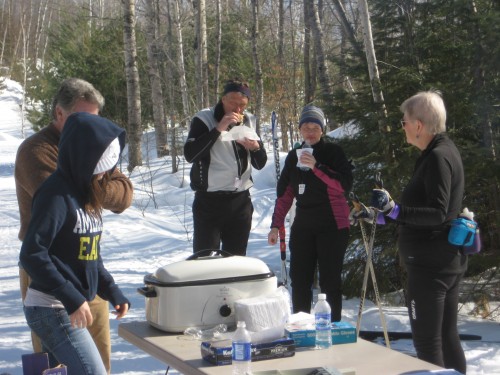 Ski along the ABR Ski Trails and sample our local cuisine and specialties at various stops along the trails.
All of our favorite vendors and restaurants attend.
We have 5 confirmed restaurants attending. Manny's, Ole Suffolk Ale House, Brewsters, Don and G-G's, Cold Iron Brewing.
There may be a few more last minute additions.
<>
<>
ABR Trails On Facebook
Below are the latest postings from the ABR Trails Page On Facebook.
<>
This message is only visible to site admins
Problem displaying Facebook posts. Backup cache in use.
PPCA Error: Due to Facebook API changes it is no longer possible to display a feed from a Facebook Page you are not an admin of. The Facebook feed below is not using a valid Access Token for this Facebook page and so has stopped updating.
Friday July 29th, 2022 - 12:46 pm
My father, Dave C. Anderson, co-founder of ABR Ski Trails passed away on May 25th, 2022. He was 82 years old.
I enjoyed working with my Dad on a daily basis for 10 years, building ABR Ski Trails. We planned trails, attended meetings, chain sawed and bull dozed trails to be used as ski trails and snowshoe trails. We groomed trails in the early morning hours. Neither of us was the boss. We took turns wearing a hat that said "I am the Boss".
Dad enjoyed skiing and grooming. He also really enjoyed visiting with skiers in the parking lot, on the trail and in the Ski Cabin. In the summer Dad enjoyed running, sea kayaking, and being outdoors.
I learned a lot about running ABR from Dad and really miss him.

Eric Anderson

Obituary | David Carl Anderson of Georgetown, Texas | Ramsey Funeral Home & Crematorium
www.ramseyfuneral.com/obituary/david-c-anderson

A Celebration of Life will be held Saturday, August 6, 2022 at 11:00 a.m. at the Erwin Town Hall,
N8908 VanBuskirk Rd, Ironwood, Michigan.

In lieu of flowers, you may donate to a memorial for Dave's favorite non-profit:
Anderson Bluff & River Trail Foundation
c/o Dave Anderson Memorial
E5299 West Pioneer Road
Ironwood, MI 49938
Website: andersonbluffsrivertrailsfoundation.org/
Email: AndersonFoundation13@gmail.com ... See MoreSee Less
My condolences on your loss. He leaves a wonderful legacy.
Such a wonderful tribute. We are grateful to your father, and to you, for the magical ABR trails.
Well said Eric - your Dad was another good man from Erwin Township- a credit to his parents, a good school system and hard work; he leaves a lasting legacy. My sympathy to you and all your family.
Eric, I am pleased to have known your dad. I have wonderful memories of our fun after ski evening visits. The combined talents and hard work you both have done in developing and maintaining ABR is truly amazing. You and your dad are appreciated beyond words. Thank you for sharing these photos along with your story. It is just a sampling of what your dad gave to the world of XC skiing. You have carried his torch well. Yes, Dave is and will be missed but remembered on those beautiful ski trails.
Hello Eric, You really don't know me and I never met your dad. I do believe after reading about him here that he made a huge impact on your life. Nearly 8 years ago, I fell on the trails on a downhill on a very cold day. After being summoned by others via cell phone, you came in one of your large groomers and helped me get up. I had a really bad hamstring injury and honestly did not let you touch me for quite awhile. You were patient and assisted me when I was ready. I am sure you don't remember but I do. People learn great things from their parents if they are lucky, and I believe you are one of them.
Eric, so very sorry for your loss! All my memories are of the two of u sharing duties when I'd arrive for skiing and his willingness to just chat! I'm so grateful the two of you share your happy place with us!!!
What a wonderful, kind man! And hardworking too! I'm so sorry for your loss and grateful for having him in the world.
What a beautiful tribute. May his memory be for a blessing.
Dave always seemed to have a mischievous twinkle in his eye! Thanks Dave for the awesome ski trails. We'll all miss you dearly.
Sorry for you and your families loss. Thank you for sharing and what a wonderful man. May the fond memories provide comfort of your loss.
Wonderful memories and pictures. Thank you for sharing and sorry for your loss. So many people have enjoyed the foundation he laid!
Sending love. I provided bus transportation for one ski event your Dad held. It was an honor.
Thanks for sharing. My next ski there will be to honor him.
I'm so sorry for your loss. I have fond memories of your father from back in the 70s when he did a leather working instruction for our 4H club. He was also a friend of my dad's through Lions, I believe. He's left a wonderful legacy behind.
Sorry to hear, thinking of you and your family. He sounds like a wonderful man.
I'm so sorry for your loss. Thanks to him and your family for the gift of so much joy for so many people through these trails.
So sorry to hear of your Dad's passing. Please accept my sincere condolences. His legacy will live on for the foreseeable future with the ABR ski trails.
He left an amazing legacy. ABR is enjoyed by thousands.
My deepest sympathies to your family. What a wonderful legacy your father has built.
Quite a gift you and your father gave to all of us. I hope the Memorial is a joy for all who attend.
Sincere condolences Eric. Looking forward to skiing and seeing you guys this winter
Beautifully said. So sorry for your loss. Sympathies to you and your family.
So sorry for your loss. Sending prayers and hugs 💜
My condolences for you and the entire family.
Sorry to hear that. Our prayers and condolences are with you and your family.
<>
Visit ABR Trails On Facebook >>>
<>