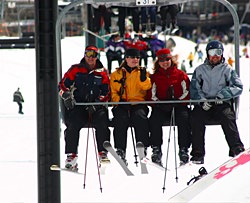 Coming off a cold and snowy 2013/14 winter, skiers and boarders can look forward to the coming season with plenty of places to enjoy Michigan's snow-filled slopes and trails.  With a combined total of 51 ski areas, boasting over 260 lifts, about 1,000 runs, more than 70 terrain parks and hundreds of kilometers of groomed cross-country trails, there is something for everyone.
According to the Michigan Snowsports Industries Association (MSIA), ski areas are always looking for ways to increase enjoyment for skiers and snowboarders.  Through the years, slope maintenance and snowmaking capabilities have improved dramatically, so much so that even if there is no snow at home, the ski slopes can be covered when the weather turns cold.  "Much of the technology that ski areas use to make snow was developed at a Midland Michigan company called SMI," states Mickey MacWilliams, executive director of MSIA.  MacWilliams adds that SMI celebrates its 40th year as one of the leading developers of snow making systems in the world this winter.  They were responsible for making snow last winter in Russia, for the 2013 Olympics – not an easy feat.
The following is a rundown of improvements and special offers for the 2014-2015 season.  For more information, visit goskimichigan.com, which has quick links to Michigan ski area websites.
Michigan's Upper Peninsula slopes are busy getting ready for winter.  The big news is that Norway Mountain in Norway is open again!  After two years without an owner, Neil and Kris Urban of Wisconsin purchased the ski area and the lifts will soon be running.  Improvements include a new Snow Cat for grooming, interior and exterior painting of the lodge and a new menu in the restaurant, prepared by Chef Dawn. Plans also call for expanding snowmaking for the coming winter. (906)282-9105 norwaymountain.com
Other big news comes from Bessemer and nearby Wakefield, where Blackjack and Indianhead Mountain Resort have merged operations.  The two are now offering the BIG PASS, an interchangeable, all access pass to both mountains. Together, these two resorts offer 410 skiable acres, 54 trails, 15 lifts, and 4 terrain parks with an average annual snowfall of 17 feet. Blackjack: (906) 229-5115, skiblackjack.com. Indianhead: 1-800-346-3426, indianheadmtn.com
Big Powderhorn of Bessemer is celebrating its 50th Anniversary with special events in the works for the entire winter.  This winter season pass holders will receive one free day of skiing at Mont Ripley, Pine Mountain, and Marquette Mountain. 1-800-501-7669, bigpowderhorn.net  
Pine Mountain in Iron Mountain offers full-time college students a season pass for $99, which is a $399 value. (906) 774-2747 or 1-877-553-PINE, pinemountainresort.com
Mount Bohemia, Michigan's extreme skiing area locatedin the Keweenaw Peninsula, has added more lodging.  A new log cabin has a large front porch that overlooks Lac La Belle. The cabin is ski-in, shuttle out and is located on the hiking/cross country trails and sleeps up to five. (231) 420-5405, mtbohemia.com
At Marquette Mountain in Marquette all senior citizens (65+) and Military personnel can purchase a lift ticket for just $28, with no date restrictions.  Family lift ticket packages (4 people) cost $139 for the day, or $299 for seven consecutive days, including rental equipment. (906) 225-1155 or 1-800-944-SNOW, marquettemountain.com
Owned by Michigan Technological University, Mont Ripley sits in the middle of the cities of Houghton and Hancock. The Weather Channel designated Hancock Michigan as the third snowiest city in the country and students at Michigan Tech can take advantage of this with a free season pass to Mt. Ripley. New this year Mt. Ripley's website features a virtual tour interactive trail map, where viewers can experience every trail from many different vantage points, including that of a drone. This new product is the mastermind of two former Michigan Tech students who started a company called Trail Genius. (906) 487-2340. mtu.edu/mont-ripley
Ski Brule inIron River has added an Acrobag and its use is included with a lift ticket purchase. Acrobag will be available 1-3:00 on Saturday, Sunday and daily 12/26-1/5. The ACROBAG is an air pillow that cushions the landing after going off a jump. The idea is that this is a 'safer' way to practice the latest tricks. Both snowboarders and skiers are welcome. In addition, there are new lodging properties available this winter at Ski Bruule. Big Bear and Beaver Lodge are duplex chalets located in the Brule Village and accommodate four to fourteen guests. Both feature private hot tubs, full kitchens, daily maid service, linens, cookware, WIFI and an outdoor gas grill. Brule Village properties include daily maid service, linens, cookware and WIFI. 1-800-DO BRULE, skibrule.com
Heading into the Lower Peninsula Nub's Nob Ski Area of Harbor Springs was just named to the Top 5 Midwest Resorts for 2015 by Transworld Snowboarding magazine.  In addition Nubs has updated its rental fleet to provide high-end Rossingnol Snowboards and Bindings with Head Boots. The cross-country ski rentals were also updated with Fischer skis and boots. Professional Ski Tuner Pat Dueweke has joined the Nub's Crew. As a professional Wintersteiger Ski Shuttle Mechanic and sought after race tuner, Pat's sharp eye and hands-on experience will be an asset to all Nub's Nob skiers and boarders.  On the slopes, Nubs is adding 10 new in-house designed and manufactured snow guns to its fleet, bringing the total to 292 snow guns. (231) 526-2131 or 1-800-SKI-NUBS, nubsnob.com
Also in Harbor Springs, Boyne Highlandshas undergone numerous projects over the summer. Renovations include two newly remodeled pools for resort lodging guests at The Bartley House Hotel and Heather Highlands Inn condo-hotel. The resort has also renovated meeting space for group functions in the Main Lodge with updated lighting, new carpet, and fresh paint. This winter, skiers and snowboarders can get even more time in on some favorite terrain as the Interconnect and North Face chairlifts are expanding to daily operations. The Tubing Park will offer more excitement with an expansion from two side-by-side lanes to six individual lanes thanks to the purchase of a new tube lane cutter. The resort's Burton Riglet Park, specially designed for 3-6 year olds, is being enhanced with new features and moving to the Camelot beginner slope. Additional lighting on the NASTAR course will make maneuvering turns even easier, and for park enthusiasts, Boyne Highlands continues to offer the only 13-foot Halfpipe in Michigan. Boyne Highlands has expanded rental equipment with the purchase of an additional 200 sets of Head skis and boots, as well as new Burton Learn to Ride (LTR) boards, boots and bindings for adults and children. On the trails, a new cross-country tracker will make for for more efficient grooming.  1-800-462-6963, boynehighlands.com
At Boyne Mountain in Boyne Falls, the resort's Zipline Adventure Tour was expanded to include two new ziplines that will bridge the gap between current lines 8 and 10 with a tree canopy feature in the middle. Zipliners will also see new and exciting winter attractions along the walking trail between lines. Boyne Mountain's popular Tubing Park is offering food and beverage concessions this winter. The Tubing Park offers six downhill lanes and has a rope tow for convenient up-hill access. Lively après ski parties in the Snowflake Lounge are scheduled each Saturday, 4-7 p.m., beginning Dec. 27, 2014. Parties feature entertainment and drink specials and the resort's exclusive Everett's IPA on draft, brewed solely for Boyne Mountain Resort by Petoskey Brewing Co. Continuing this winter, kids can also get in on the après ski action with their own parties in Stein Eriksen's with music, dancing, kiddie cocktails, and more. The 2014/15 season also brings new Junior pricing and online ticket sales at Avalanche Bay Indoor Waterpark, improved lighting on McLouth, new features in the Burton Riglet Park and new Nordic signage, plus more rental equipment. Expanded lift hours on the Disciples II chairlift, set to run Monday through Friday, 9 a.m. to 1 p.m., and Saturday and Sunday 9 a.m. to 4:30 p.m., will provide more access to the Disciples area. Glade clearing has continued in this region of the slopes, which accounts for approximately 30% of Boyne Mountain's total 415 skiable acres.  Providing the latest in rental equipment, Boyne Mountain has also added 200 new sets of Head skis and boots, as well as new Burton Learn to Ride (LTR) boards, boots and bindings for adults and children.1-800-462-6963, boynemountain.com
When staying on a package at either Boyne Mountain or Boyne Highlands, juniors ages 9-15, receive reduced rates and kids ages 8 and under sleep, ski/ride, and eat breakfast for free.
In Gaylord, Treetops Resort reports that again this winter it will be open seven-days-a-week. In addition, Olympic Snowboard Coach Tom Hutchinson will return to Treetops as an instructor. Treetops will open a natural Terrain Park this year that will peak the interest of more experienced riders.  In addition, the resort will periodically feature a Boarder X course and will again have the BIG AIRbag training device for riders to perfect their tricks before taking them to any of the parks.  Any student 8 and older who has a grade-point average (GPA) of 3.0 or above qualifies for a dramatically reduced-rate season pass and all students can get a School Card, which allows them to ski 10 times midweek after January 1 and get rentals and lessons for just $5 each. TOMMY TROPIC (famous juggler on skis) will perform each weekend and over the holidays this winter at Treetops.  In addition to performances, guests can learn how to juggle which will ultimately lead to a guest competition in March.  The winner will earn the opportunity to perform with Tommy Tropic next summer at Gaylord's Alpenfest. (855) 318-0678, treetops.com
Also in Gaylord, the Otsego Club offers private-club skiing for the family.  Those interested in a membership can purchase a "Test Drive" for $495, which covers the entire 2014/15 winter season.  Test drivers receive free lift tickets when staying at Otsego Club, as well as complimentary cross-country skiing, snowshoeing, sledding and sauna use. 1-800-752-5510, otsegoclub.com
A new ski rental facility, a new ski school registration center and a new beginner ski area are the big changes at Shanty Creek Resorts in Bellaire.  The changes are expected to improve operations and guest satisfaction, while adding value to each of its three villages across the 4,500-acre resort property.  First, a new rental shop has been built in the lower level of the Lodge at Cedar River. This will provide guests with a more streamlined experience, ample day lockers and restrooms, and ski-in/ski-out access to the Purple and Red Lifts and all of Schuss Mountain. The ski school registration and lessons will also move to Cedar River Village, adjacent to ski rentals on the lower level of the Lodge.  A new beginner ski area is also opening at the Cedar River Village where the Alpine Tubing Park had been in previous years. A new 400-ft magic carpet will allow beginners to either stay in the beginner area or access the rest of Schuss' slopes when they're ready. Then, at Schuss Village, the Snow Sports building at the base of the Yellow Chair Lift, where rentals and ski school had been previously, becomes a new day lodge complete with seasonal lockers, day lockers, plus tables and vending machines for guests who choose to bring their own meals and snacks.  If that isn't enough, the Alpine Tubing Park will move to the top of Summit Mountain behind The Lakeview Hotel at the resort's Summit Village. Improving the experience, instead of handle tows as in years past, guests will now enjoy magic carpet access back to the top. Dining options are changing as well.  The River Bistro, a new 12,000 sq. ft. restaurant and bar in The Lodge at Cedar River, features full-service dining in a casual atmosphere with fireplace and a 48-ft bar. With all these changes, parking will be expanded on Cedar River's upper lot, and a new bridge will allow closer access to the lodge.  (231) 533-8621 shantycreek.com.
The Homestead in Glen Arbor has completed one of the most ambitious remodeling efforts in its history.  The updates have transformed the Stony Brook Lodge into the most modern, yet warm and rustic, lodging option at the Resort. From the beginning, the goal of the remodeling efforts at Stony Brook Lodge (originally built in 1998) was to create a magnificent lodging venue for Resort guests. Taking direction from great historic national park lodges in places such as Yellowstone, Banff, Bryce, and Glacier National Park, the redesign team sought to create a lodging venue that blended cosmetic style, local ambiance and flawless modern function.  The overhaul of Stony Brook covered just about everything—from cabinets to countertops, from soffits to switches and even new flat-screen TVs. All this functional change was then wrapped in a newly improved and visually stunning package — a near total interior and exterior cosmetic makeover that better coordinated the room-to-room textures (think more wood, tile and stone) and overall décor. (231) 334-5000, thehomesteadresort.com
Crystal Mountain in Thompsonville will increase their slope count by two this winter with the addition of Last Call and Jester's Alley. Last Call is a glades run that begins on North Face and wanders back to the front-side slopes. Crews are working this fall on Main Street and Giggles to create a new dedicated beginner terrain park named Jester's Alley. In addition, a second Skier/Boarder-Cross course will be added, this time to the Ridge slopes. The course will be designed on Kaye Blue (Intermediate level) finishing in the flat just above the Ridge triple chairlift.  Crystal has swapped out almost all of their snowboards and now have an entire fleet of Burton boards.  Young, aspiring snowboarders will get an effective introduction to the sport on weekends within the new Burton Riglet Park, a flatland training where an instructor pulls students over features to build confidence and provide a feel for what it means to ride the terrain. Along those same lines, Crystal Mountain's grooming crews will be maintaining subtle rollers and banks within Totem Park (the resort's learning area) and beginner trails that naturally help beginners with speed control and engaging turns.  In addition Crystal is adding new stretches of Fat Tire Biking trails and dedicated snowshoe trails through the Michigan Legacy Art Park, located in the woods at Crystal Mountain. Over the summer Crystal added a zip line course and it will be open for its inaugural winter season. Season pass holders receive discounts on lodging and lift tickets at Deer Valley in Utah and Grand Targhee in Wyoming. 1-800-968-7686 or (231) 378-2000, crystalmountain.com
Caberfae Peaks in Cadillac has been busy making improvements on the slopes and in the lodge.  The slopes have 10 new low-energy SMI snowmaking fan guns, 10 new snowmaking towers on North & South Peak, over 500' of snowmaking pipe & electrical wire, a new 12-inch, 300-foot well, allowing for another 1000 gpm of flow into the snowmaking reservoir. The additional water source will allow us to pump 3000 gpm around the clock, out of the reservoir and up the hill to over 125 snow machines.  Lodge improvements include a renovated pool and hot tub deck area with heated concrete, the addition of a poolside, wood-burning fire pit for houseguests, and a renovated entrance to the 36-room MacKenzie Lodge.  In addition, Caberfae has added over 250 pair of Rossignol snowboards complete with strap-in bindings and boots and over 1,000 pair of new rental ski boots.  (231) 862-3000, caberfaepeaks.com.
Cross Country Ski Headquarters in Roscommon purchased a new Kubota Tractor and carbide-tipped ice power tiller that can turn hard-packed, ice-covered trails into skiable, groomed snow in one pass.  In addition, they will feature a new snowshoe trail that will grow in length as the winter progresses and the ground freezes.  Projected overall length will be about 5 kilometers (3 miles) as it heads east through some very tall Norwegian pines and continues through aspen, maple and oak forests before heading north into a primitive lowland populated by ancient pines. (989) 821-6661 crosscountryski.com
Hanson Hills Recreation Areain Graylingoffers an affordable date option called "$1 Friday Nights." Beginning January 9, 2015, on Fridays anyone (whether on a date or not!) receives a lift ticket for $1 and ski or snowboard rental equipment for just $4 more.  New this year, Hanson Hills invites guests to ride their fat bike on a newly developed maintained and groomed six-mile trail.1-888-876-2196, hansonhills.org.
Mt. Holiday, located near Traverse City, has made several improvements over the summer. The ski area will open a new glade run and mogul slope this winter as well as providing additional features in the terrain park. Mt. Holiday recently added a Zipline Challenger Course, which will be available all year long. Holiday's day lodge now remains open Tuesday through Saturday nights offering dinner and libations.  (231) 938-2500 mt-holiday.com
There is big excitement at Snow Snake Ski & Golf in Harrison this year with the installation of a Magic Carpet lift on the beginner hill. The addition of the Magic Carpet will ensure that all ski and snowboard learners have a great experience. Also new this year is the introduction of a reduced membership price. For $150, guests can purchase a season pass that is good every day, from the first day of the season to the last day of the season. Snow Snake also updated the interior of the lodge, made improvements to snow making equipment, and added to its rental equipment. (989) 539-6583, snowsnake.net
The folks at Cannonsburg in Belmont, provide a lot of good reasons to get out on the slopes. Every Tuesday beginning January 7, Adult Daytime lift tickets (10am-4pm) are just $10 during Take Off Tuesday. For those that can't make it out during the day, Thursday Radio Night tickets are $10 as well. (616) 874-6711 cannonsburg.com
The 2014/2015 season marks the 30th Anniversary for the Muskegon Winter Sports Complex in Muskegon. To celebrate, interested businesses can Adopt-A-Luge and display their logo, via decal, on one of 30 new luge sleds that were purchased this year.
Heading to southwestern Michigan, Timber Ridge Ski Area of Gobles has a new mobile app!  Information is available with a scan code on the ski area's website (look under the News tab on the left) 1-800-253-2928 timberridgeski.com.
Moving to Southeast Michigan, after a $10 million renovation of the lodge, ski school, chair lifts, terrain park and snow making system last winter, Mt. Brighton in Brighton is at it again for the 2014-2015 season with Phase Two of its improvements. Purchased by Vail Resorts in 2013, Mt. Brighton underwent a top-to-bottom facelift last year that took its dated, 1960s look and feel into an aesthetically pleasing and technologically advanced ski area. This season Mt. Brighton will introduce new online ticket sales (desktop and mobile) to improve the guest experience, an expanded Children's Center, a new beginner surface lift (for a total of three), new programs including Lindsey Vonn's Ski Girls Rock, Women's Ski Academy and Women's Race Academy and a new terrain park layout. In addition, Mt. Brighton Preferred Program members will now receive the price of their Mt. Brighton ticket as a discount off lift tickets at resorts including Vail, Beaver Creek, Breckenridge and Keystone. Mt. Brighton season pass holders receive half off paid tickets at those resorts. 1-888-222-7521 mtbrighton.com
Earthmoving, excavation and a new chairlift highlight the changes at Pine Knob in Clarkston.   Crews were busy removing chairlift #3 and replacing the older chairlift with a brand new Skytrack variable speed triple chairlift that goes to the very top of the existing hill, unloading between the Phase One Chair and the Quicksilver Chair. The loading area at the bottom of the hill is located in roughly the same area as before but is now considerably lower. These changes result in a longer and consistently steeper run adding an additional 40 vertical feet, and are part of a long-term strategy to reshape and better utilize hill space. Hill improvements are designed to enhance the race arena and mogul terrain as well as relieve congestion on other chairlifts. In addition, they have added fully automated snow machines on "The Wall," which will allow for an earlier season opening of that area. (248) 625-0800 skipineknob.com
While the folks at Mt. Holly Ski Area of Holly are busy gearing up for the winter, skiers who love rock & roll (are there any who don't?) can take a tour down memory lane by clicking on the Motor City Rock & Roll link on Mt. Holly's home page. The Mt Holly crew has been busy adding10 new "TOPGUN" snow machines to add to the fleet of 130 high output low energy snow guns.   The energy efficient TOPGUN is manufactured at Mt Holly and is designed to get the resort open early and create great snow conditions all season long. The Rental Department has new equipment so guests out in all that snow will be able to ski their best.  In addition, Mt. Holly has also added a brand new PARK BULLY GROOMER to its grooming fleet! (248) 634-8269 skimtholly.com
<>
Visit Michigan Snowsports Industries Association Website >>>>
<>
More News From MSIA - Michigan Snowsports Industry Association