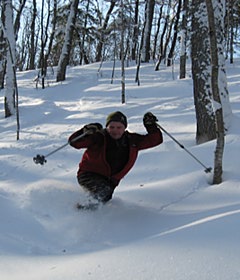 We are looking forward to Midwest Telefest 2021. This will be our 31st year and our biggest event ever!
Midwest Telefest will be held February 12-14, 2021 at the Porcupine Mountains Winter Sports Complex near Silver City, MI
Don't forget to book your hotel or cabin before they're all gone!
With the Covid Pandemic still in effect we have made a few modifications to our typical events schedule.
While the Porkies lodge will still be open to warm up and to use the bathrooms, our goal is to encourage folks to socially distance outdoors this year as much as possible. We also strongly encourage face coverings, and frequent hand washing/sanitation
Lets all be safe and have fun!
— Schedule —
Friday February 12
– Ski the hill and backcountry
– No official Friday night party
Saturday February 13
– Ski the hill and backcountry
– 11 AM uphill downhill race
– 2 PM social distanced group photo (6ft apart) top of lift
– 4pm Smelly Kneepad slalom race, bring your long and skinny skis
– No potluck dinner, dinner and drinks on your own this year
– Social distanced outdoor party with a few large fire pits in front of lodge with music
Sunday February 14
– Ski the hill and backcountry
– 10 AM cross country and backcountry tours
We are very excited to announce that the two best Telemark Ski shops in the US will be representing this year with demos!
<>
Visit Midwest Telefest Page on Facebook >>>
<>
Below is a video from the 2020 Midwest Telefest
<>
Visit Midwest Telefest Page on Facebook >>>
<>
– – – – – Porcupine Mountains Lodging Packages – – – – – –

<>