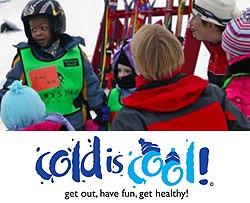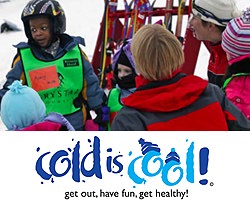 4th and 5th Graders Ski ALL WINTER LONG with our App!
MSIA Cold is Cool Passport allows Fourth and Fifth Graders to Ski All Winter Long in Michigan! Families can obtain a Cold is Cool Ski & Ride Passport App for their 4th and/or 5th graders that gives them up to three free lift tickets or trail passes at 29 participating ski areas, plus additional discounts on the slopes and in Michigan ski shops. MSIA charges $30 for the passport; $25 covers operating expenses and $5 goes to MIsnow, a new charitable organization that helps get underprivileged kids out on our slopes & trails in the winter.  MIsnow also works to preserve the strong cultural past of Michigan skiing and protect its future with sustainability education.
In addition to the lift tickets donated by the participating ski areas, Cold is Cool Passport also includes a coupon for 20% off a helmet purchase and $20 off the purchase of $100 at participating ski shops across the state. Some ski areas have also included coupons for equipment rental and free or discounted lessons.
The Passport is an app to download on your phone, making it contactless at the lift ticket window.
Once the application is complete, you will receive an email with instructions on how to download the app.
To get a lift ticket, you will bring your child and your phone (or other device that you have loaded the app on) to the ski area. Show the offer you want to redeem to the ticket attendant and press the redeem button to receive your child's lift ticket or other offer in the Cold is Cool App.  It's that simple!
CHECK YOUR PASSPORT APP FOR EXCLUSION DATES AND THE SKI AREA'S WEBSITE before heading to the slopes.  Know before you go!
You can also show proof of grade at a participating ski shop and gain instant access to the Cold is Cool App. No need to wait for MSIA's approval or upload proof of grade!
<>
Visit the Cold is Cool Page on the MSIA Website >>>>
<>
MSIA On Facebook
Below are the latest postings from the MSIA Page On Facebook.
<>
<>