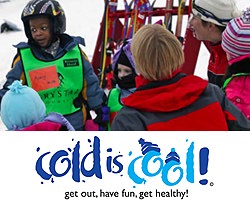 The Michigan Snowsports Industries Association (MSIA) wants to give Michigan kids an opportunity to get out, have fun and get healthy this winter. This is why MSIA has established a state-wide program that provides every 4th and 5th grader the opportunity to ski for free. Students can obtain a "Cold is Cool" Ski & Ride Passport that gives them up to three free lift tickets or trail passes over 25 participating ski areas, plus additional discounts on the slopes and in Michigan ski shops.  MSIA charges $20 for the passport (to cover printing and shipping.)

In addition to the lift tickets donated by the participating ski areas, the Cold is Cool Passport also includes a coupon for 20% off a helmet purchase and $20 off the purchase of $100 at participating ski shops across the state.  Some ski areas have also included coupons for equipment rental and free or discounted lessons.
Proof of 4th or 5th grade status is required.  One page of a report card or progress report is sufficient.  If the child is home schooled, the parent or guardian can include a note stating the child's grade equivalent.  Please note!  Put your child's name and address in the "Ship To" column if you are ordering online.
MSIA charges $20 for the Cold is Cool Passport, to cover printing, shipping and postage fees.
In order for fourth & fifth graders to use the free lift or trail pass coupons, a paying adult must accompany them. "We feel that fourth and fifth graders should be supervised by an adult while on the slopes and trails. Our intention is to make this a fun, affordable and safe activity for the entire family," says Mickey MacWilliams, MSIA executive director. With the Passport, up to two kids can ski free with each paying adult.  The Passport is valid through April 30, or the end of the 2017/18 ski season.
PLEASE CLICK THE LINK BELOW FOR COMPLETE INFORMATION ON THE MSIA COLD IS COOL PASSPORT
<>
Visit the Cold is Cool Page on the MSIA Website >>>>
<>
More News From MSIA – Michigan Snowsports Industry Association

<>
Michigan Snowsports Industry Association – News and Specials via Facebook
<>
Visit Michigan Snowsports Industry Association on Facebook >>>>
<>