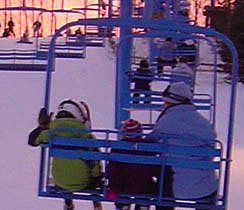 They're in! The White Gold Cards have arrived and we just shipped them to ski shops around the state! Ski one time at 34 Michigan ski areas, get your skis tuned, get a coupon worth $20 off $100 at participating retailers and receive 3 hot wax sessions for your skis or board all for $269.
The Michigan Snowsports Industries Association (MSIA) has produced the White Gold Card. The card allows the holder to ski at 34 different Michigan ski areas this winter for just $269.  The MSIA White Gold Card entitles the purchaser to ski one time at each of the participating ski areas during the 2017/2018 ski season. In addition to the 34 lift tickets, White Gold Card purchasers also receive one complimentary ski or snowboard tune-up, 3 hot was sessions and a coupon for $20 off a purchase of $100 at participating retailers.  The retail value is over $1,600!
The cards will be available at participating retail stores throughout the state and we have a limited number to sell from this website. You save the $8 shipping fee (per order not per card) by purchasing at your local ski shop. However, if you want to pay for yours now, we will ship it to you when they have arrived.  We only have 400 to sell and they sold out fast last year!
The card looks like a credit card, divided into squares.  Each ski area is assigned to a square and one square is designated for the ski tune-up.  The purchaser takes the White Gold Card to the ski area's lift ticket window, where the square corresponding to that ski area is punched out.  White Gold Card skiers are allowed to ski one time at each ski area, midweek or weekend.  The card is valid for the entire ski season, except for December 24, 2017 through January 2, 2018.  The cards are non-refundable and non-transferable.  To get the tune-up and hot wax services, White Gold Card purchasers take their skis or boards to one of our participating ski shops.
MSIA developed the White Gold Card as a fundraising endeavor and limits its production to 400 cards.  "We've found from past years' sales that they go quickly," says Steve Kershner, MSIA Chairman and Director of Snowsports at Shanty Creek Resorts.  He suggests that anyone interested in purchasing a card should do so as soon as possible.
You may order them online via the MSIA website here, or purchase them at participating retailers (listed below).
Participating ski areas:
Alpine Valley
Big Powderhorn
Bittersweet
Blackjack Resort
Boyne Highlands
Boyne Mountain
Caberfae Peaks
Cannonsburg
Crystal Mountain
Cross-Country Ski Hdqts.
Bay Mtn. at The Homestead
Hanson Hillls
Porcupine Mountain
Indianhead Mountain
Marquette Mountain
Mont Ripley
Mt. Bohemia
Mt. Bohemia
Mt. Brighton
Mt. Holiday
Mt. Holly
Mt. Zion
Mulligan's Hollow
Muskegon Winter Sports Complex
Norway Mountain
Nubs Nob
Pine Knob
Pine Mountain
Shanty Creek
Ski Brule
Snow Snake
Swiss Valley
Timber Ridge
Treetops Resort
These retailers will be selling White Gold Cards:  (Note – Some ski shops will accept only cash or check)
Bill & Paul's Sporthaus – Grand Rapids – (616) 458-1684
Boyne Country Sports – Bloomfield Hills (248) 338-0803, Novi (248) 549-6006, Traverse City (231) 941-1999
Don Orr Ski Haus – Traverse City (231) 946-8810
Don Thomas Sporthaus – Birmingham (248) 626-9503
Lee's Adventure Sports – Kalamazoo (269) 381-7701
Nichol's Ski & Snowboard – Dearborn (313) 565-0044, Waterford (248) 674-5200
Schummer's Ski Shop – Grosse Ponte Woods (313) 881-4363
Shumaker's Ski & Board – Flint (810) 239-6931
Skier's Peak – Bloomfield Hills (248) 594-6200
The Stable of Saginaw – Saginaw (989) 799-0601
Sun & Snow Sports – Ann Arbor (734) 663-9515, Plymouth (734) 927-0007
Summit Sports – Brighton (810) 227-6877, East Lansing (517) 332-4000, Bloomfield Hills (248) 738-4444
Swiss Valley Ski Shop – Jones (269) 244-5635 

<>
<>
More News From MSIA – Michigan Snowsports Industry Association

<>
Michigan Snowsports Industry Association – News and Specials via Facebook
<>
Visit Michigan Snowsports Industry Association on Facebook >>>>
<>